Tire Punctrue Tubeless Cold Patch Tire Rubber Seal Strip 100*6mm Auto Tools
Cangzhou Xingtai Auto Parts Co., Ltd.
Warranty:1 Year
Type:Emergency Tools
Standard:Standard
Certification:CE
Tire Gauges Type:Digital Tire Gauge
Tire Gauges Carry Way:Portable
Model NO.:100*6mm
Condition:New
Update Method:by Hard Disk
Product Name:Brown Rubber 100*6mm Tyre Repair Seals Strip
Use:Emegency Repair Use
Size:100*6mm
Package:5PCS,Sheet ,6sheets,Box,120box,Carton
Color:Brown
Service:OEM Available
Feature:Good Elasticity, Long Storage Period
Transport Package:Box and Carton Package
Specification:51*41*21cm
Trademark:xingtai
Origin:Cangzhou, Hebei, China
HS Code:4016939000
Production Capacity:50000000PCS
Size No.
Diameter
Length
Packing
Carton Size
GW
6*100mm
6mm
100mm
5pcs/card 6cards/box ,120box/carton
51*41*28cm
14kg
5.5*100mm
5.5mm
51*41*25cm
14kg
5*100mm
5mm
14kg
4.5*100mm
4.5mm
13.5kg
4*100mm
4mm
13kg
3.5*100mm
3.5mm
51*41*18cm
13kg
6*200mm
6mm
200mm
5pcs/card 6cards/box ,60box/carton
51*41*28cm
14kg
5.5*200mm
5.5mm
51*41*25cm
14kg
5*200mm
5mm
14kg
4.5*200mm
4.5mm
13.5kg
4*200mm
4mm
13kg
3.5*200mm
3.5mm
51*41*18cm
13kg
we have advanced Equipment and can promiss to produce the best quality according to our customer's markets!
We can produce different sizes tire repair seals , and also we have OEM service ,which can help many distributors to make their own design with their brands !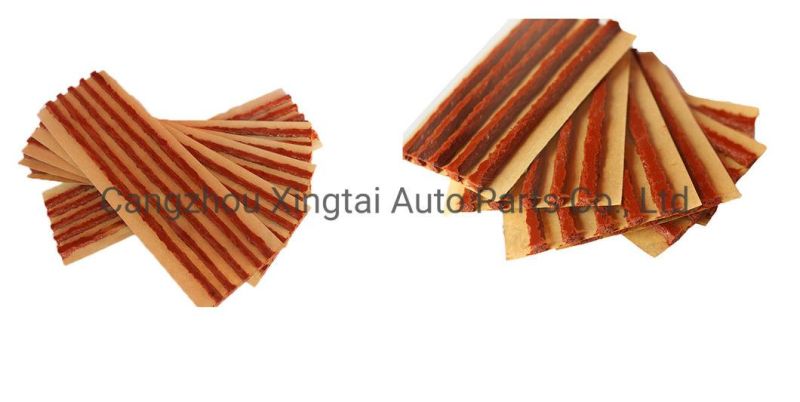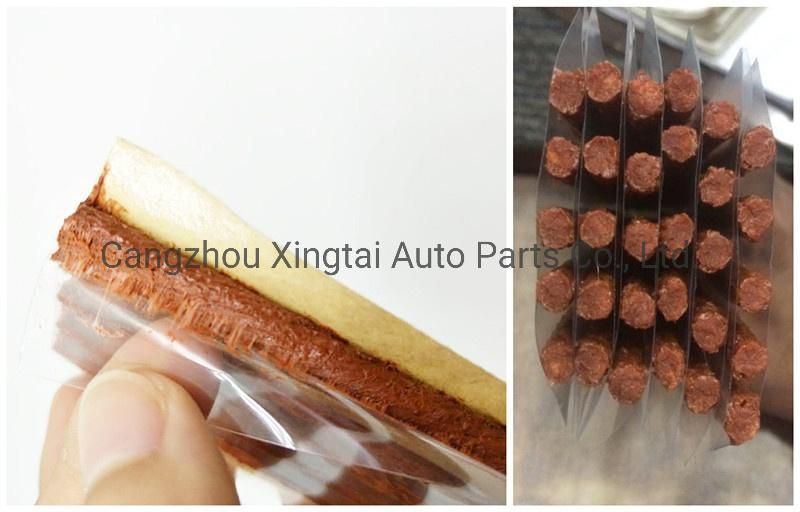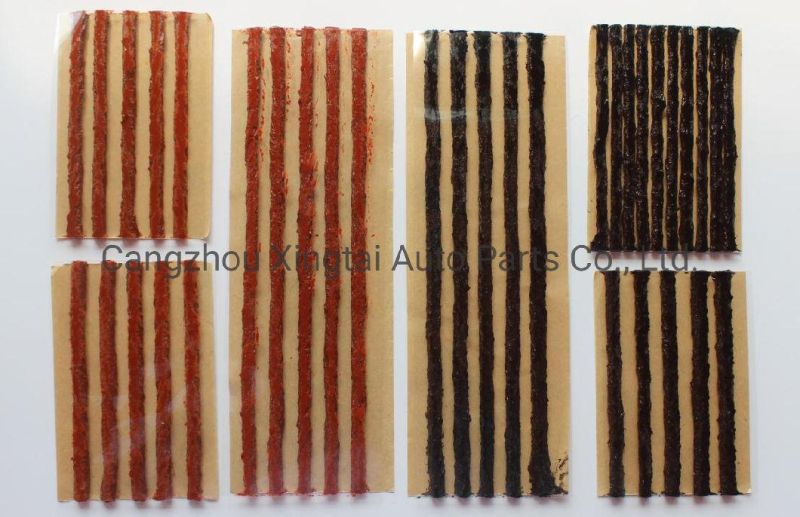 How to Use it ?
1.Locate puncture and remove puncture object.
2.Put probe onto tire fixer and locked with bolt.Apply rubber cement over surface of probe,insert it into injury and work up and down.To clean and lubricate injury.
3.To replace eye needle with probe on tire fixer,then insert PX PUNCTURE PLUG/SEAL and roll centre of plug/seal into eye of needle.
4.Apply rubber cement over all surface of eye needle.
5.Insert tire seal into injury of tire (nail hole) remain 5m/m plug /seals outside,turn 1/4 and remove the needle.
6.Cut tire seals 5mm from tread,but do not stretch.Tire is ready to inflate.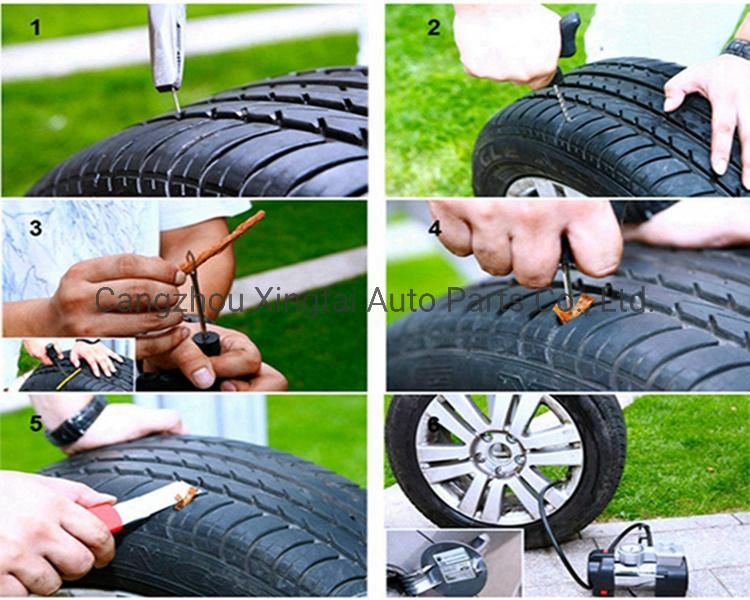 Company information: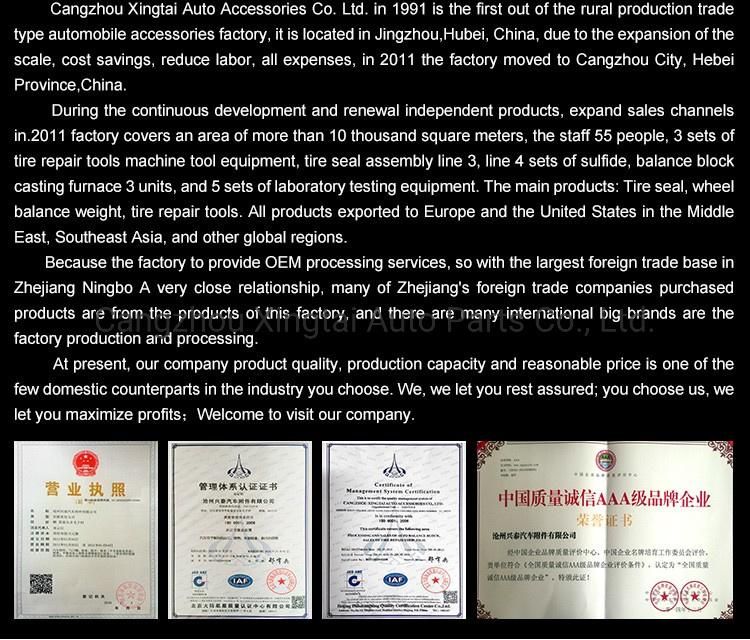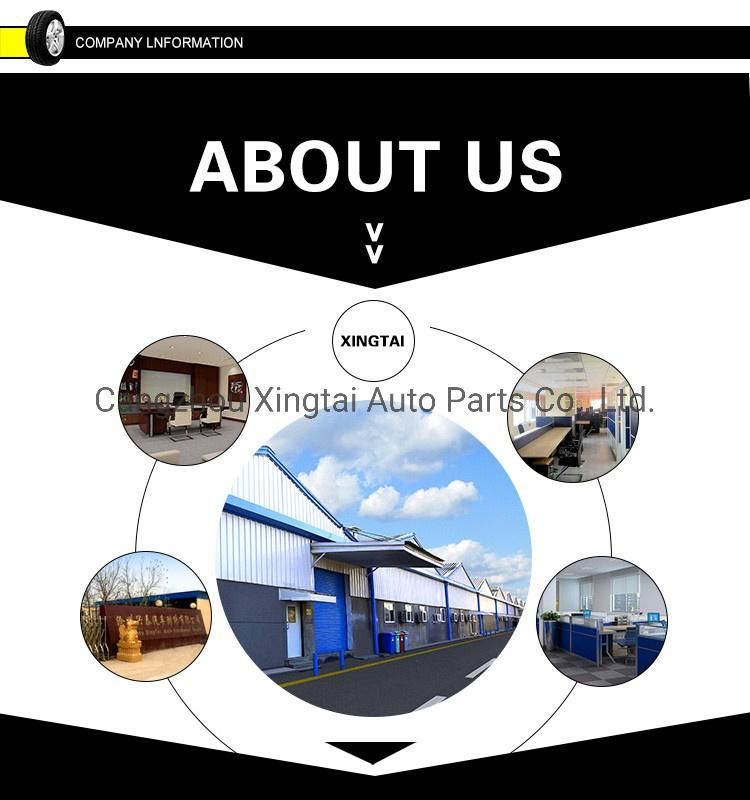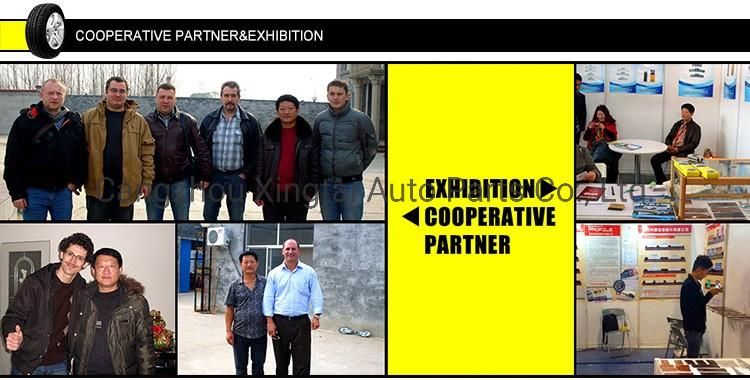 Advantage&Service :
1.200 hours salt testing,strong and powerful using
2.Various sizes available,high corrosion resistance
3.Good reputation,outstanding service,professional quality control
4.The material is non-lead products,eco-friendly
5.Customized design is welcomed
6.We will offer 24 hours online service and reply customers in time.
7.We can design the products as customers' requirements.
8.We can provide free samples.
9.We will provide samples of new series of products for the former customers.
FAQ